Part One
The Controller
------------------------------------------------------------
+ Name:
Masaru Kagami
+ Nickname:
N/A
+ Height:
5'9"
+ Weight:
160 lbs
+ Gender:
Male
+ Age:
17
+ Face claim Picture: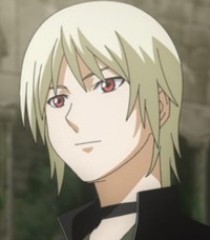 + Personality:
The one word that best describes Masaru's personality is "apathetic." Masaru is disinterested in everything around him and simply has the goal of "winning" as long as this goal is achieved, he tends to not care about how it is done or what sacrifices must be made to do it. For this reason Masaru is often correctly perceived as being cold or distant from other people. He believes firmly in the idea that the ends justify the means in all situations as long as he himself is not sacrificed as part of those means. He is smarter than average and well aware of it, which leads to him being very arrogant at times.
+ Physical Traits:
Slim, natural blond hair clearly showing his foreigner blood.
+ Clothing:
Usually wears casual clothing, prefers the color black.
+ Accessories:
N/A
+ History:
Masaru was born of mixed heritage, with a Japanese father and American mother. He received a neuro linker at birth to help ensure he would excel at academics, something he would be pushed towards his entire life. This pressure and resulting stress's effects can be clearly seen in his "winning at all costs" mentality.
When Masaru first entered school he was bullied for not being a pure blooded Japanese. At first this was simply him being teased and avoided but upon entering middle school the severity of the bullying rapidly escalated. He would be frequently beaten outside the view of the social cameras and was forced to buy the bullies things on several occasions. Despite this Masaru continued to work towards excelling at school and acted like nothing was happening in front of his few friends. He made no outward signs of being bullied and when questioned about it feigned complete ignorance of the problem. On the inside though Masaru sought to show them something that truly deserves to be mocked for its appearance, something so hideous that simply looking at it would bring them the pain he feels. Even though he refused to show it or even acknowledge there was a problem thoughts like these often came into Masaru's mind and he frequently found himself to be angry with the people who assaulted him.
While these feelings festered inside of him one of Masaru's friends approached him and asked him "Do you want to surpass your own limits?". Masaru replied affirmatively and installed Brain Burst shortly afterwords. That night Masaru had a nightmare where he was being attacked by all the bullies he had encountered they were beating him and mocking his appearance. At this time Masaru thought to himself "I want to show them something truly grotesque to make them feel the same pain as I did" and heard a voice ring out "Is that your wish?".
The next day Masaru met with his friend who explained to him about how acceleration works as well as how to play brain burst. For one of the few times in his life Masaru was intrigued and decided to become level 10 in hopes of learning the truths behind the game.
Part Two
The Duel Avatar
------------------------------------------------------------
+ Name:
Madras Horror
+ Height:
5'7"
+ Gender:
Male
+ Parent:
Irridium Berserker
+ Appearance Claim:
Spoiler:
Part Three
The Details
------------------------------------------------------------
Stats
Main
Strength
4
Constitution
4
Agility
10
Dexterity
6 (4+2 color bonus)
Secondary:
M. Attack
– 75 (65+STR+DEX)
R. Attack
– 6 (DEX)
Block
– 6 (DEX)
Dodge
– 125 (115+AGI)
Stealth
– 20 (14+DEX)
Observation
– 58(52+DEX)
Athletics
– 60(54+DEX)
Trap
– 6 (DEX)
Climb
– 5 (STR)
Acrobatics
– 10 (AGI)
Jump
– 4 (STR)
Health
– 55 (CON)
Abilities and/or Armaments
Name of Killer Move  Snare
Effect: A tentacle grows out of the ground and snares the opponent preventing movement. The tentacle disappears after one round.
Cost:  30%
Description:  Roots the target for 1 posting round and dealing blunt damage.
Weaknesses: The opponent can still counterattack. Can be destroyed.
_________________________________________________________________________________________________________________________ Name of Ability: Horrific Presence
Type: Limited Activation Passive Skill
Cost: 5% gauge per posting round per affected person
Effect: Every turn that Madras horror is being looked at an illusion(described below) grows over the DA causing feeling of intense nausea and discomfort by looking at it after being looked at for longer times(exact steps listed below) the world around Madras Horror becomes distorted as well making it hard to judge distances or aim properly . Every turn that he is not being looked at by another duel avatar the illusion regresses one step until they look at Madras Horror again or their the illusion vanishes not having the ability active will also cause the opponent to recover.
Description: Every turn that Madras Horror is being looked at an illusion becomes becomes increasingly overlaid over his avatar beginning by black maggots appearing to slowly come out of him and engulf him and swelling until he eventually appears to be a swollen mass of tentacles. This illusion is specific to each other avatar rather than being a globally seen illusion, and simulates touch as well as appearance. Steps the illusion follows bellow:
1 post- Madras Horror is covered in black maggot like creatures only causes a sense of nausea when being looked at.(-5 M/R attack)
2 posts- The maggots that cover Madras Horror link together forming long tentacles that envelop his body the sense of nausea increases. (-15 M/R attack)
3 posts- Nausea starts to become powerful and it starts to become hard to tell where the illusion ends and where Madras Horrors body begins.(-25 M/R attack)
4 posts- The area around Madras Horror starts to appear distorted making it hard to tell how far from Madras Horror, disorientation and dizziness also begins appearing at this point.(-40 M/R attack)
5 posts- Disorientation becomes stronger and the area around Madras Horror becomes further distorted making it extremely difficult to judge distances.(-55 M/R attack)
6+ posts- The area around Madras Horror is extremely distorted and aiming attacks straight and hitting becomes nearly impossible as a result of the illusions.(-70 M/R attack + 10 more loss per round looking at Madras Horror)
Weaknesses: Does no damage, only affects those who are looking at Madras Horror. When active the ability affects allies as well as enemies. Area of effect attacks that can be used without seeing Madras Horror are not impeded by this ability.
Last edited by Nakara on Fri Feb 12, 2016 12:19 pm; edited 1 time in total
Veteran




Posts

: 196


Join date

: 2012-12-11


Age

: 23

Character Stats
Name: Inkwell Leviathan
Level: 1
Burst Points:


(120/300)



Heyo! That voice in my head everyone calls Miale, told me to tell you that your character is accepted, though only if you change the cost Horrific Presence up to 8%.
Administrator




Posts

: 181


Join date

: 2013-03-13


Location

: Hidden Valley

Character Stats
Name: Sapphire Minstrel
Level: 1
Burst Points:


(100/300)



Don't have KG numbers yet so it's hard to say for sure but my first impression is that it is unusably bad at 8% per post(as in I'd be better off using my KG exclusively for snare which isn't  a great ability itself) at 8% you're paying 32% KG to give one DA -40 to their accuracy if everything goes perfectly after 4 posts of build up, in the real world though I can't imagine many people would actually look at Horror for 4 posts consecutively and if they look away just one post that nice -40 becomes a rather pathetic -15 for 32% kg and 4 posting rounds of time. By comparison in canon Criterion Call heals, restores KG, repairs equipment, and cures status afflictions for only around 10% more KG than that and does it instantly(This is huge) and permanently instead of having to build up over several rounds and disappearing with time.


 That's in 1v1  in group fights its simply impossible to even use at 8% cost per person looking at horror(that's 24%KG per posting round in a 2v2 fight if horror is in everyone's field of view and your hitting your teammate too assuming you can somehow pay that) Obviously you could just make it 8% flat regardless of the number of people but it completely ruins the flavor of the ability if it doesn't act individually on every person looking at horror.
Veteran




Posts

: 196


Join date

: 2012-12-11


Age

: 23

Character Stats
Name: Inkwell Leviathan
Level: 1
Burst Points:


(120/300)



I admit your arguments make sence but I feel like 3% is too low of a cost, can we settle on 5% for now and adjust after trying it out in several fights?
Administrator




Posts

: 254


Join date

: 2013-02-02


Age

: 25

Character Stats
Name: Emerald Valkyria
Level: 1
Burst Points:


(100/300)



That's fine I debated quite a bit between 3 and 5 percent myself so barring a crazy low KG generation system that should work fine.
Veteran




Posts

: 196


Join date

: 2012-12-11


Age

: 23

Character Stats
Name: Inkwell Leviathan
Level: 1
Burst Points:


(120/300)




---
Permissions in this forum:
You
cannot
reply to topics in this forum